Be Active
We feel privileged to live in a place where the world's most beautiful mountain range majestically rises before our eyes.
"Nothing is more fascinating than reality"
Connect with nature
Exploring our region
In the Dolomites, life is shaped by nature and its seasons. Mother Nature sets the beat, inviting us to new adventures every day. Sometimes these adventures are small: taking a walk in the woods, inhaling the fresh scent of the trees. Sometimes
they are grand: conquering rugged peaks, letting go of everyday worries, finding ourselves.
show more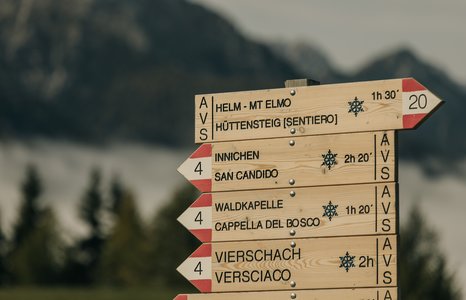 Out in the elements
Active all year
At Leitlhof, the direction is clear: up. Whichever path you choose, there will be beautiful gems to discover. Located amidst the Sexten Dolomites, our hotel is the ideal starting point for most summer and winter activities. Pick your adventure: hiking,
climbing, biking, skiing, ski touring or simply walking in nature.
show more